Mouse
[
]
Holding Right Mouse Button – Camera mode
+ Move – Pitch/orbit
+ Left Mouse Button + Move – Move
Mouse Wheel – Zoom
Shift + Mouse Wheel – Scale brush or prop
Keyboard
[
]
Camera and Control
[
]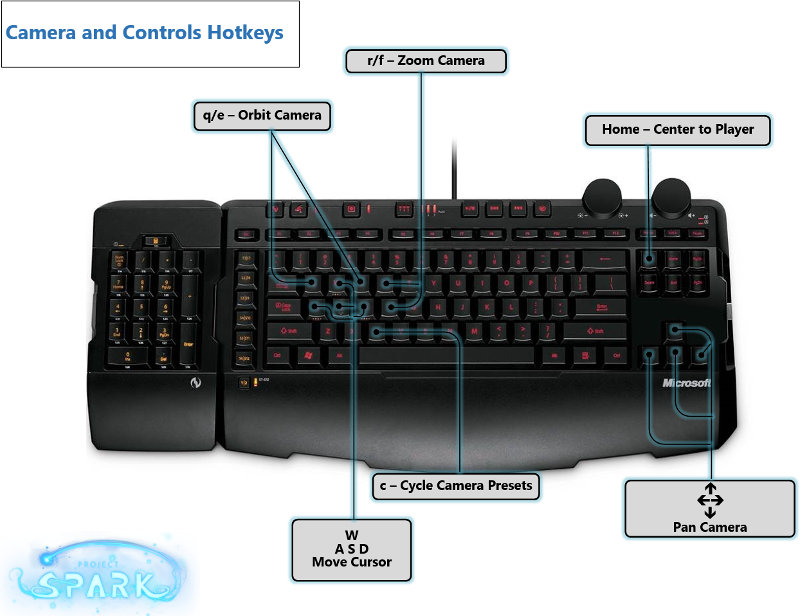 WASD – Move camera
Arrow Keys – Pitch/orbit camera
q/e – Move camera vertically
r/f – Zoom camera
Home – Center to player
c – Cycle camera presets (top down, front, side, free)
Menu and Tool Functions
[
]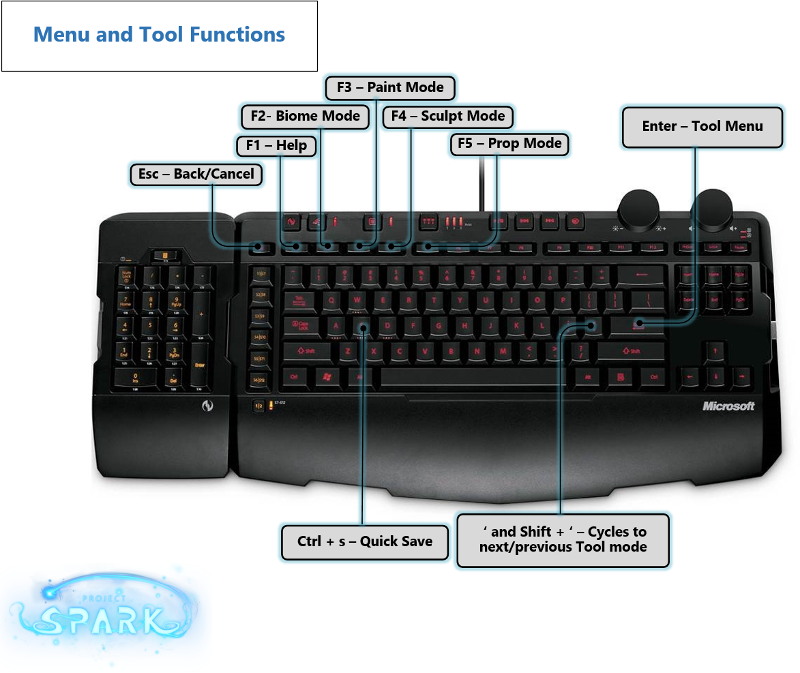 Esc – Back/cancel
Ctrl + s – Save
F1 – Help
F2 – Biome mode (successive presses cycle through tools)
F3 – Paint mode
F4 – Sculpt mode (successive presses cycle through tools)
F5 – Prop mode (successive presses cycle through tools)
Return/Enter – Tool menu
' and Shift + ' – Cycle between tool modes
Editing
[
]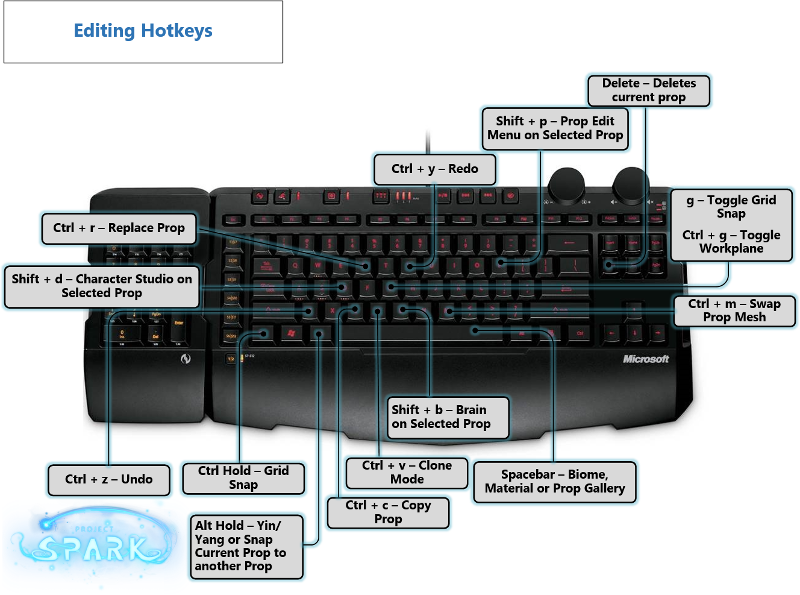 Shift + Mouse Wheel – Resize brush/prop
Spacebar – Biome, material or prop gallery
Holding Alt – Invert tool or snap current prop to another prop
Ctrl + c – Copy current prop (only works for some props)
Ctrl + m – Swap current prop mesh
Delete – Delete current prop
Shift + b – Brain on selected prop
Shift + p – Prop edit menu on selected prop
Shift + d – Character studio on selected prop
Holding ctrl – Grid snap
g – Toggle grid snap
Ctrl + g – Toggle workplane
Ctrl + z – Undo
Ctrl + y – Redo
Brain and Gallery
[
]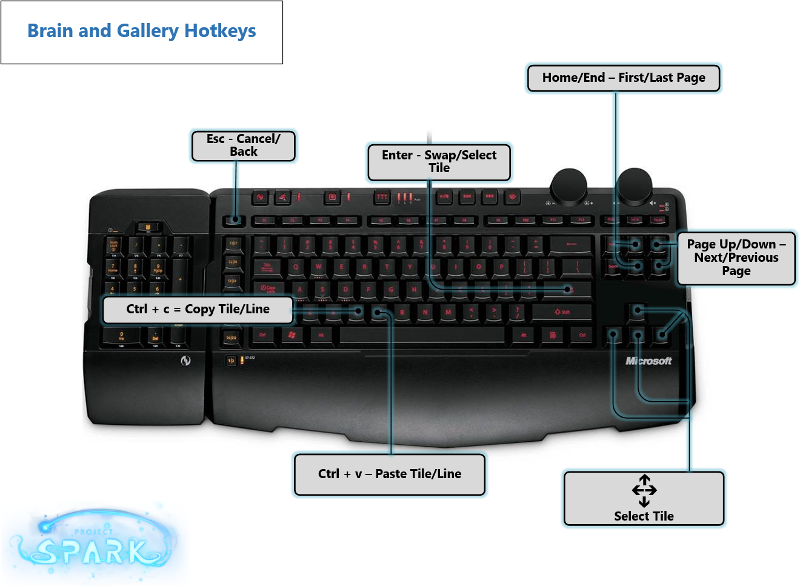 Brain
[
]
Esc – Back/cancel
Ctrl + c – Copy tile/line
Ctrl + v – Paster tile/line
Arrow Keys – Select tile
Return/Enter – Swap/select tile
Gallery
[
]
Home/End – First/last page
Page Up/Down – Previous/next page
Xbox Controller
[
]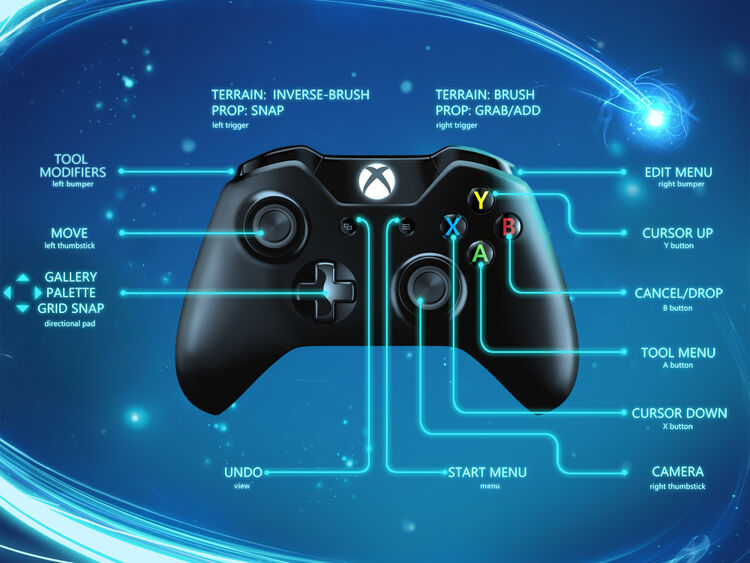 Left thumbstick moves the cursor horizontally.
Using X brings your cursor down in the world, while using Y brings your cursor up in the world.
Right thumbstick pans the camera.
Pressing in on the Right thumbstick will cycle through different zooming distances.
Right Bumper + Up/Down on the Left Joystick zooms the camera in/out.
Right Bumper + A centers the camera on the player.
Right Bumper + B cycles through the camera presets (top down, front, side, free).
A button activates and selects buttons on the tools menu.
Right Trigger places props in prop mode.
Left Trigger snaps an object to the ground in prop mode.
When sculpting, Right Trigger is for positive sculpting like expanding and adding terrain. Left Trigger switches to negative sculpting such as eroding and subtracting terrain.
Holding Left Bumper brings up menu wheel and scale option (for props it gives additional menu options: Y = Brain, X = Delete, B = Character Studio, A = Edit).
Left and Right on the D-Pad cycles through paint and biome palettes.
Holding down on the D-Pad turns on and off snap to grid.
Pressing up on the D-Pad opens up your gallery (Materials, Biome or Prop gallery).
Pressing the View button will use the undo tool.
View + Right thumbstick to the left cycles through undo points.
View + Right thumbstick to the right cycles through redo points.
Source: Project Spark Instruction Manual (Handy Keyboard Maps and Handy Controller Maps).